HOME
ABOUT THIS BOOK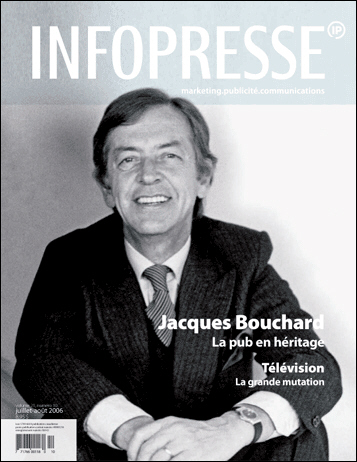 Jacques Bouchard's Les 36 cordes sensibles des Québécois serves as a guide and sets the tone for the entire advertising industry in Quebec.
In 1978, Quebec adman Jacques Bouchard (1930–2006) published Les 36 cordes sensibles des Québécois, an analysis of the social fabric of Francophone Quebecers. Since its publication, the book has served as a guide and set the tone for the entire advertising industry in Quebec.
The 36 Heartstrings of Quebecers is a newly translated English version of Jacques Bouchard's classic text. This online edition will help anyone in advertising, marketing, public relations, media or consumer research better understand French-speaking Quebecers and what makes a "distinct society" like Quebec tick.
My objective in this translation was to keep the high-energy, lighthearted tone of the original with a bit of editing and added descriptions for certain characters and events that might present a few problems for Anglos and next-generation readers. The online layout makes the book a snap to read and the concept easy to grasp.

STILL RIGHT ON THE MONEY AFTER ALL THESE YEARS
"For the past 8 years, Ipsos ASI has done extensive transferability work around the world and in North America. Our research has revealed that 60% of ads tested in the U.S. have completely different sales effectiveness potential in Canada! And within Canada, we see major differences between English Canada and Quebec. Even if we only look at very strong tested ads in English Canada, only 25% can be transferred to Quebec as is and 10% can transfer with some adaptations. That leaves a whopping 65% of the time, when the same strong ad in English Canada should not be aired at all in French Canada, but instead, a new creative treatment is needed!" – Vue, July/August 2013
My first advertising agency job was at BCP when Jacques Bouchard was still at the helm. (I started out as a copywriter/translator and eventually became creative group head, responsible for the agency's original English and French-to-English output.) Bouchard was a larger-than-life figure and certainly Quebec's original "Mad Man." In preparing this English version of his classic text, I also came to better appreciate just how singular his contribution was to the development of a thriving homegrown industry that today employs thousands of advertising professionals and consistently wins accolades for Quebec marketing smarts and creativity around the world.
Bonne lecture!
Lawrence Creaghan
Montreal

HOME

© 2022 – English translation and website by Lawrence Creaghan. Published online with the permission of Guérin Éditeur Ltée and the Fondation Jacques-Bouchard.